Retreats – Qigong Certification & Daoist Training Center
Retreat Offering in 2018
Qigong & Daoist Retreat: April 11-15, 2018
 Welcome to the annual Qigong and Daoist retreat of the Qigong & Daoist Training Center (QDTC), and the American Dragon Gate Lineage (ADGL).
Our 2018 intensive retreat will be held in a redwood forest about 75 miles north of San Francisco. Location is the St. Dorothy's Rest, a camp and retreat center outside of Occidental, CA.
Retreat is an opportunity to practice more intensely, go deeper in the experience of stillness and silence through qigong and Daoist meditation. This will be a special retreat because it is the 10th anniversary of the founding of the American Dragon Gate Lineage.
Our daily practices of qigong and meditation will revolve around morning, noon and evening sessions of reciting Daoist scriptures. The qigong will consist of a variety of exercises for restoring one's health and aiding one's body and energetic systems. The meditation practices are in the zuowang, or sitting and forgetting serene practices of Daoist cultivation. Other practices will include qigong circle walking, and Daoist tea ceremony. Also, being located in a redwood forest we'll have extra focus on absorbing Qi from nature. Additionally, there will be a Daoist priest ordination ceremony for members of the American Dragon Gate Lineage. Silence will be our underlying practice most of the time.
Accommodations and costs:
Most of the room options are for a single in a double room or for two in a double room. There are only two options for attending the retreat, either 4 days or 3 days. The main retreat starts on Thursday April 12 at 3 pm, and ends for everyone at 11 am on Sunday. No exceptions.
The cost for four days is double ($508), single ($548); and three days is double ($400), single ($430). A $100 deposit is required for reservations. Note, as of September 2017, all the single rooms have been reserved.
Full payment is required by February 1, 2018. The retreat is limited to students of Shifu Michael, either as local qigong students, certification students, or members of the American Dragon Gate Lineage. See special deal below.
Cancellation Policy
The QDTC retains 50% for any cancellations prior to December 31, 2017. Any cancellations between January 1, 2018 and February 1, 2018, $100 or full deposit is retained by the QDTC. From February 1, 2018 to April 5, 2018, 50% is retained. After April 5, 2018, there are no refunds, unless a medical emergency occurs for the applicant, or their immediate family. A medical proof is required, and then the 50% cancel fee would apply.
For more information, contact shifu Michael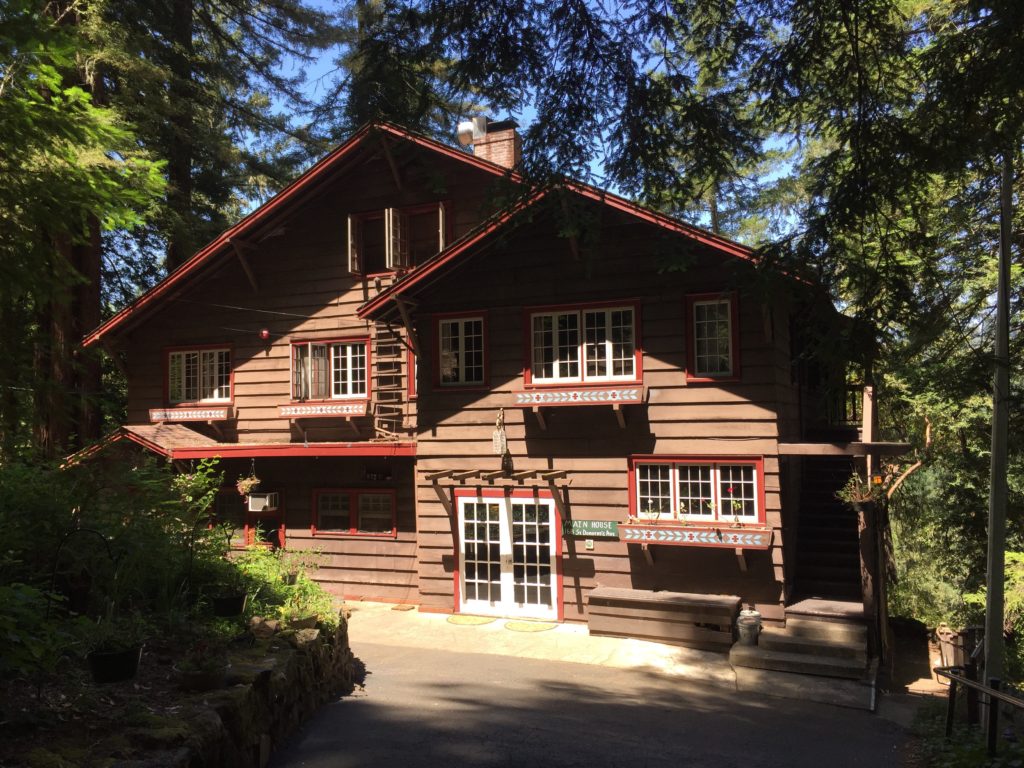 Special Deal: Qigong Certification and Retreat
A special deal will be provided for students who sign up for both the qigong certification program and the retreat. The requirement is that the full retreat fee and the certification fee are paid in advance at time of enrollment. A $200 discount will be deducted from the Qigong Certification. The retreat cancellation policy will not apply to these terms, thus no refunds on the retreat.
2017 Retreat Review
 Our 2017 intensive retreat was held at a coastal location on the Tomales Bay, one hour north of San Francisco. The St. Columba's Episcopal Retreat House, Inverness.
Retreats are an opportunity to practice more intensely, go deeper in your experience of stillness and silence through intensive qigong and Daoist practices.  Our main meditation practices were those of the zuowang (sitting in forgetfulness or oblivion) tradition combined with the Daoist koan of asking "What is Not Two?"  In 2017, the retreat had more of a varied schedule than previous years. Example, practicing medical qigong on a secluded beach, circle walking around a stone cross on top of a hill with a spectacular view, making our own meals and studying Chinese food therapy, and more. We  followed our usual intensive schedule of sittings, qigong workouts, circle walking, lecture, Daoist scripture recitations, and Daoist priest ordination ceremony by members of the American Dragon Gate Lineage.  And of course, we drank puerh tea. Silence was our underlying practice most of the time, although this year it was more challenging because of the extra activity that doing our own cooking created.
The Retreat 2017 Photos: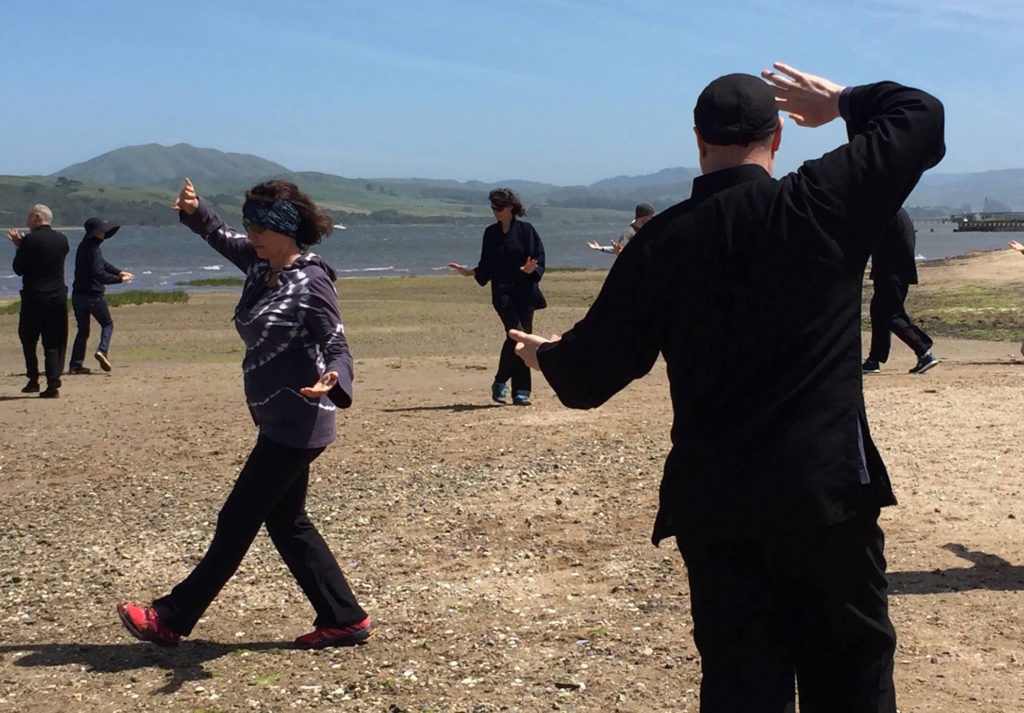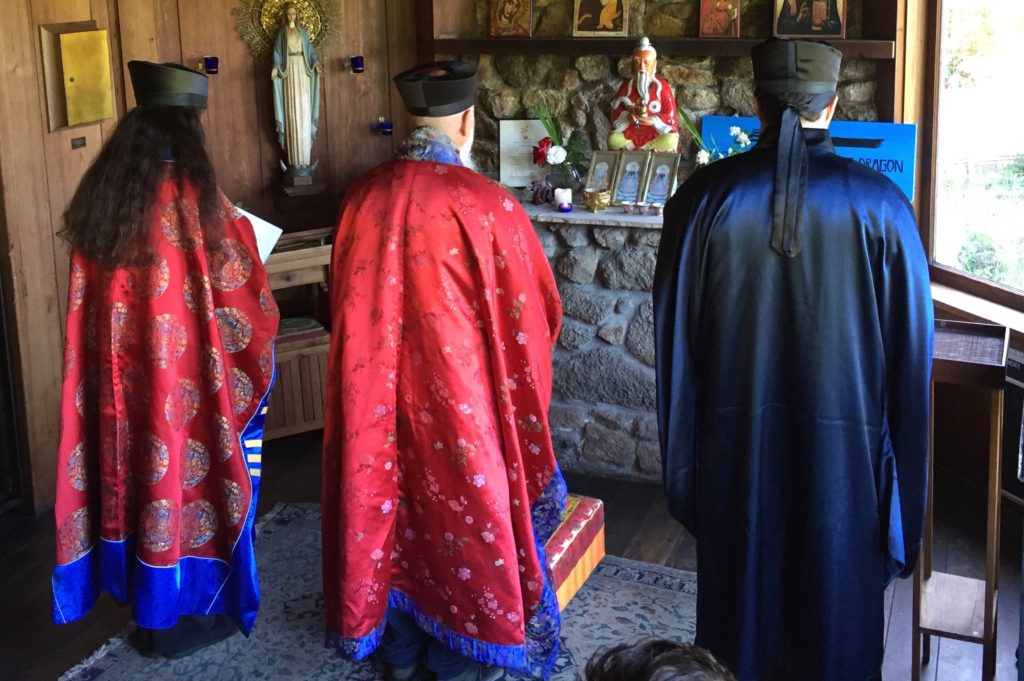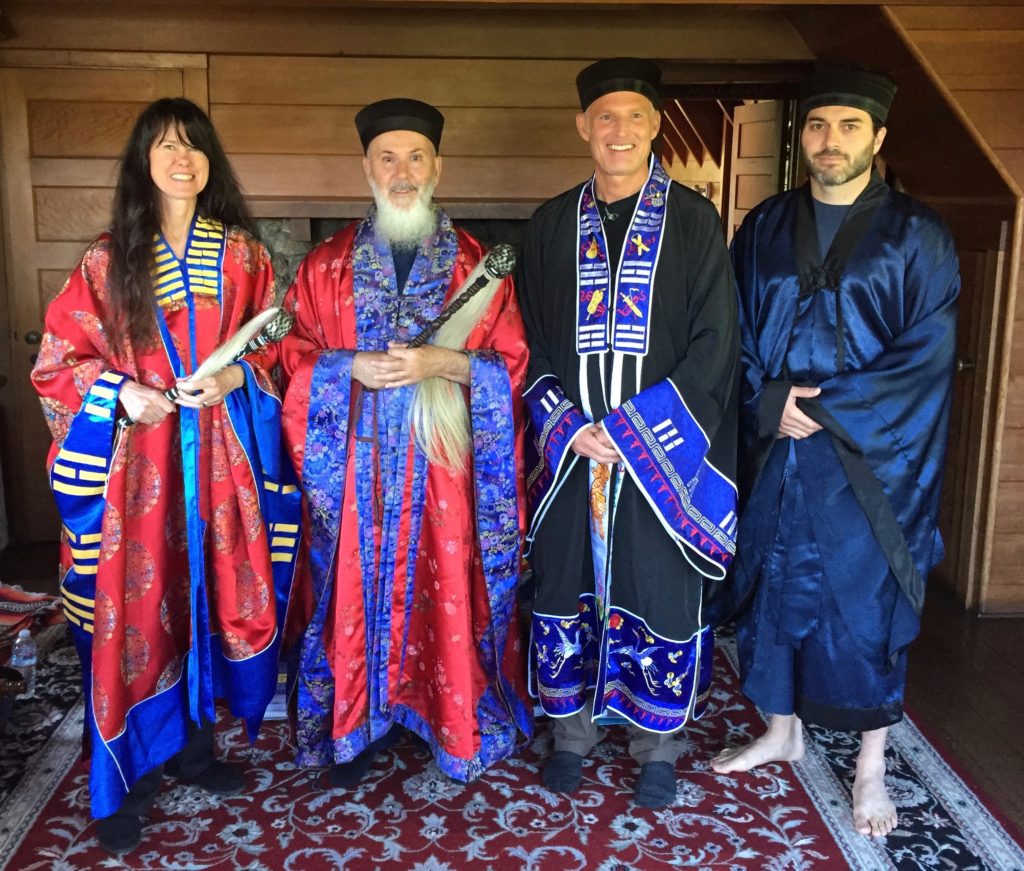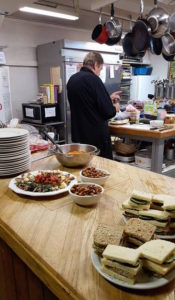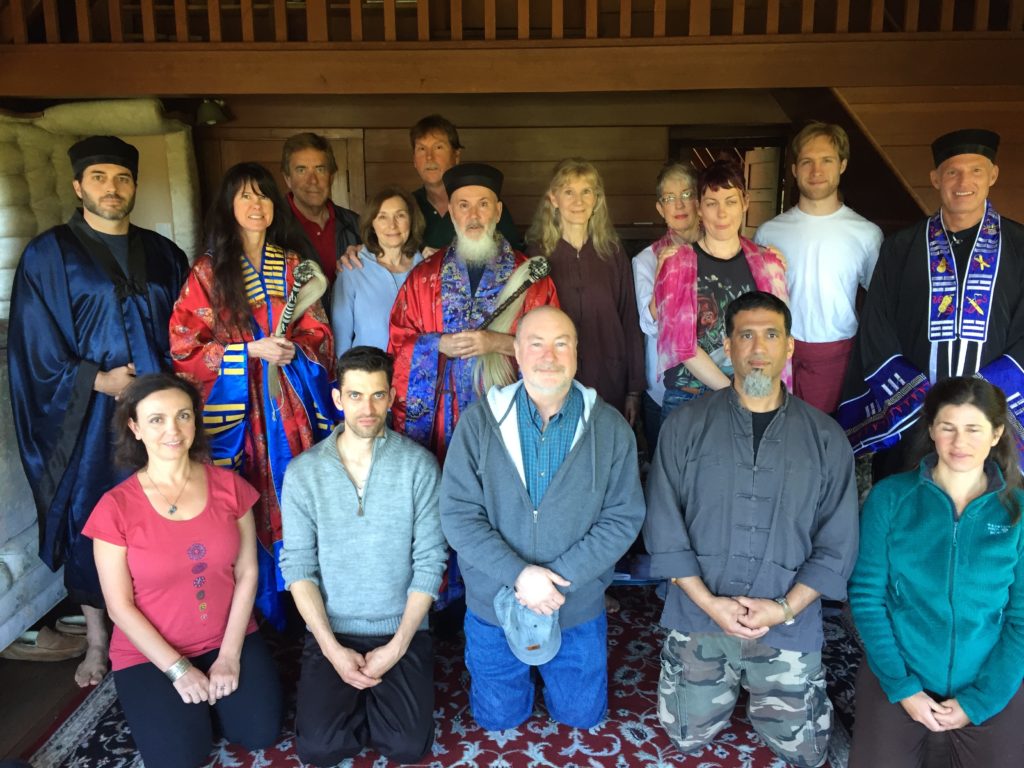 Testimonial from a retreat participant.
Fire Rooster Retreat 2017 Poem by Nicole S.
I feel tired
I feel grateful
I feel the Dao is with me
I feel the inner stillness from the depths
I remember the palpable sweetness of a community coming together sharing silence:
Sitting and moving together
Cooking and cleaning together
Sharing silence
Chewing together, food and conversation
A shared desire to explore our inner landscape: the mystery that is us
We are the mystery, born out of the mystery, returning to the mystery
May I have the mindfulness to forget-
In each moment-
To forget all that is not this mystery
So the obscurations dissolve and
The mystery and I are not separate
The paradox is the efforting to be effortless:
To become one whole without accumulation or idealization or presumption
How do we dissolve that which is not free?
How do we discard the masks, bandages and pacifiers we cling to?
How do we open ourselves until the mystery breathes us, expressing in our gestures and speech, shining forth from our original face?
Does effortlessness take effort?
Perhaps it is the effort
of tending the fire or nourishing the soil
Perhaps it is the effort of listening well
A jaw loosens its hold with a smile
And a smile arises effortlessly
after all   (Nicole S.)
For more info, contact shifu Michael.
Contact shifu Michael if you want to attend a retreat or want more information about it. Click 2018 Retreat.