Qigong Classes – Qigong, Circle Walking & Meditation
Welcome to our group of qigong and circle walking practitioners. Our class is located inside of a residential community center. We enjoy the benefits of practicing indoors yet in the center of a lovely rural setting next to a natural laguna wetlands.
Qigong, Circle Walking, and Meditation Classes
Experience the life-nurturing arts of ancient China. Qigong is a 5,000 year old Chinese healing system for health, physical fitness, and prevention of disease.  In qigong and meditation classes, the qigong functions in many ways: To purify, gather, circulate, store, and transform the Qi. Furthermore, circle walking holding specific arm postures is one of our main practices. These postures open, unblock and energize specific meridians  throughout the body. Hence, qigong and circle walking are beneficial for all ages. And these benefits extend to all health conditions.  For those practicing the martial arts, qigong and meditation are an essential way to strengthen and stabilize one's core being.  Classes are on-going and new students can join us at any time.
Class Schedule at
Sebastopol Community Cultural Center, Annex Bldg. Sebastopol, CA  Saturday's 10:30-11:30 am, drop-in $10                                 Wednesday's 10 -11 am, drop-in $10
The Qigong classes are held at the Annex building    (425 Morris St.), next to the main building of the Sebastopol Community Cultural Center.
 

Daoist Zuowang Meditation
Zuowang is an ancient form of meditation, translated as "sitting and forgetting." Classes are held at instructor's home meditation room. Each class is preceded by 10 minutes of qigong warm-up exercises. New students to meditation are welcome to join us. No prior experience in meditation is required.
This class is temporarily cancelled.  See Blog postings.
Qigong Forms Practiced On A Regular Basis:
Taichi Ruler, Swimming Dragon, Master Wan Sujian's Tonifying Three Dantians, Pre-Heaven Taichi Ruler, Dragon Chases The Pearl, Bear and Crane Frolics, Healing Sounds, Push-Pull, Gathering Starlight Energy, Compassionate Buddha Qigong, Wuji Palms Facing Heaven, Rolling The Ball, Primordial Wuji Qigong Meditation, and more.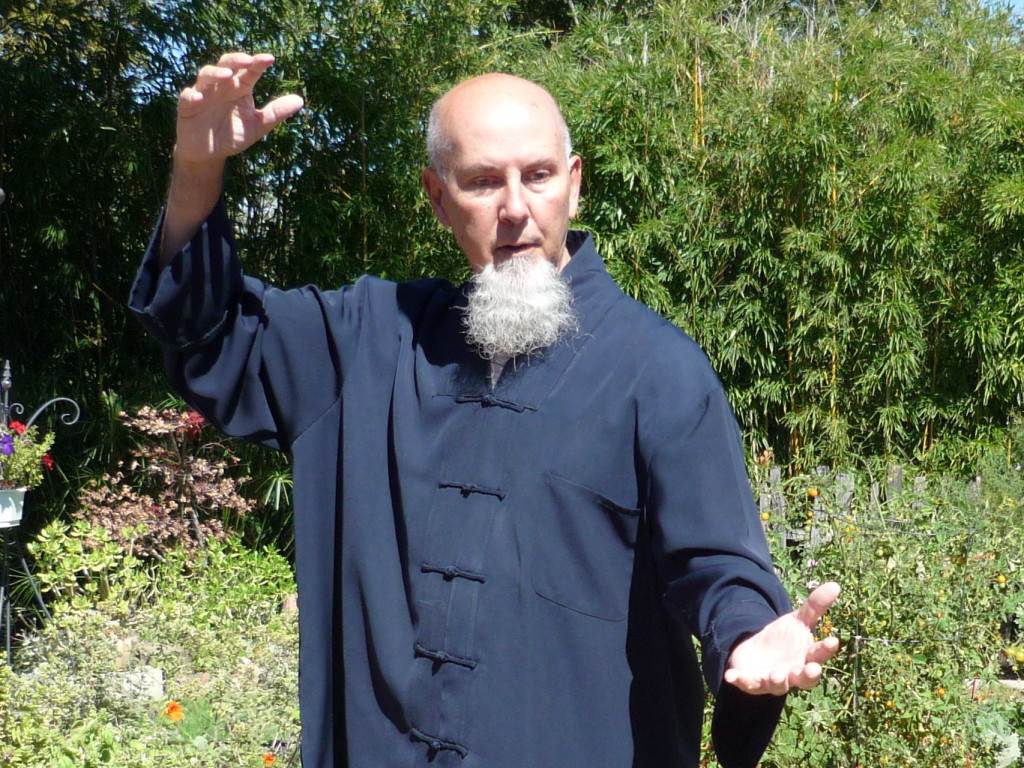 One of Michael's favorite qigong forms is Qigong Circle Walking. Popularly practiced as a martial arts form (ba gua chang), qigong circle walking is more therapeutic and meditative than its martial cousin.
New students
are welcome to Michael's on-going qigong classes at the Sebastopol Community Cultural Center. He has been teaching qigong there for the past 20 years, and has a faithful following of regular students who attend these weekly classes plus also attend his day-long mini retreats and his annual weekend intensive retreats in the Spring.  
Qigong Practice at 2018 Retreat