Black Lives Matter
Qigong Certification & Daoist Priest Training 
Welcome to the Home page of Michael Rinaldini, Qigong teacher, and Daoist priest. In these pages, you'll find info on my Qigong Certification courses. You'll also find information on Daoist priest training. You'll also find info on my local qigong classes and annual retreats. And below, you'll find info on the five books that I have written on Qigong and Daoist practices. If you want to contact me, go to my Contact page, and send me a message. 
But first,  before I move on, I want to share with you a recent journal entry I made. It's about the teacher-student relationship.
December  2020
I just got back from a short walk. I needed a break from working on my journal writing. I also took a sidetrack to check my emails and if there were any interesting Facebook postings. I found this one, "This true transmission is received individually from a teacher." As my numbers of distance qigong students continue to grow, especially since the beginning of the pandemic, I am becoming more focused on conveying to them the inner meaning of studying with a teacher. It's not an online class I keep saying to new students. You have to actively participate in the training. And, if I see the student merely repeating back to me what I gave to them in their training manual, I will remind the student that I am interested in their real-life experience. Sometimes, I will be a little direct, or even harsh, and advise them to be like the empty cup, so as to be the perfect receptacle for the qi wisdom. And sometimes, I will encounter the perfect student who has opened their heart in words and tears and revealed their deep desire for change and healing. Students such as these are rare and far in-between; they warm my heart as a teacher and remind me why I teach.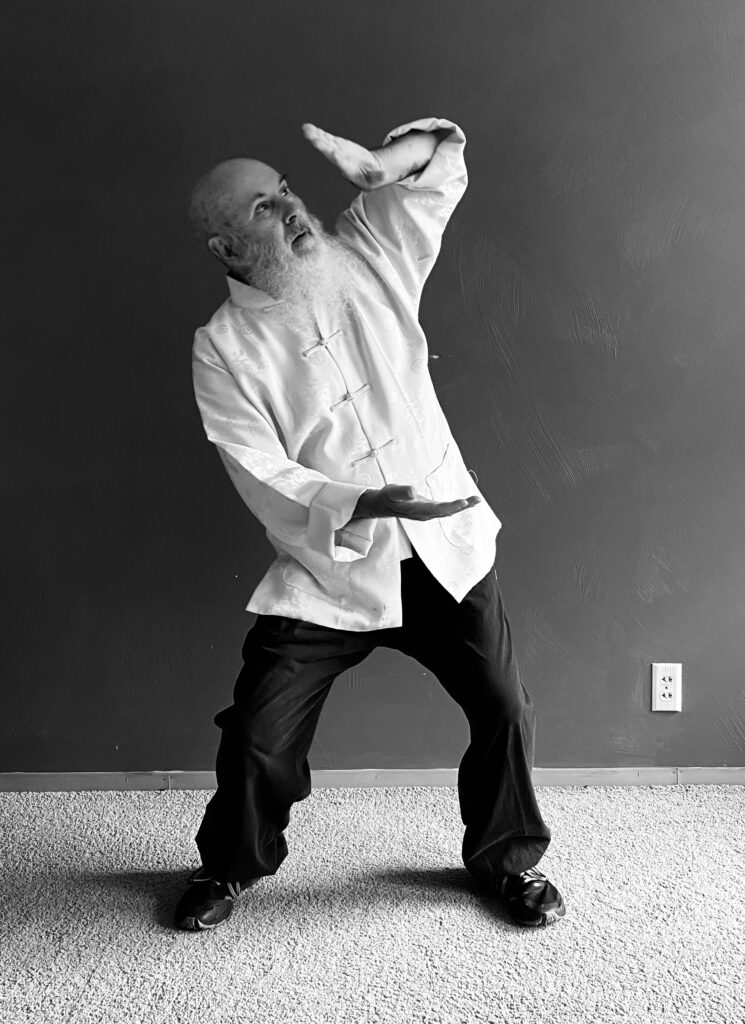 Some details about myself and Qigong Certification & Daoist Training Center.
I am a Qigong Teacher of over 25 years, and a 22nd generation Longmen Daoist priest. I am the founder of the American Dragon Gate Lineage.
Qigong Certification
I offer a solid foundation course in Qigong for educational and personal development. This course gives the student the skills to become a professional Qigong Teacher. The coursework and learning model is adaptable as a local student or as a distance student. It is not an online course.
My 200-hour course is of the highest quality and yet is affordable. I give personal guidance to my students, regardless of where they live.
Retreats: USA 
One of my favorite teaching practices is my annual retreat. My next retreat in 2021 will be at a rustic center nestled in a Redwood forest along the Californian coast. The 2020 retreat in May was canceled because of the Coronavirus. See retreats.
More about shifu Michael
I have been involved in spiritual and healing practices most of my adult life, dating back to the early 1970s. I have been studying Qigong for over 25 years, including four study trips to China. My main qigong teacher is Master Wan Sujian from Beijing's Bagua Xundao Gong Qigong Center. He certified me as a Senior Qigong Teacher back in 2006. I am also a Certified Qigong Teacher, or Senior Teacher (Level 4-highest) by the National Qigong Association, and have led workshops at their annual conferences for the past ten years (see my certificate from the NQA on my Qigong Certification  page.) I have taught students locally in Sebastopol, CA  where I live, and nationally and internationally through my distance Qigong and Daoist studies programs.
Please visit my other pages for complete details on all of my services and events.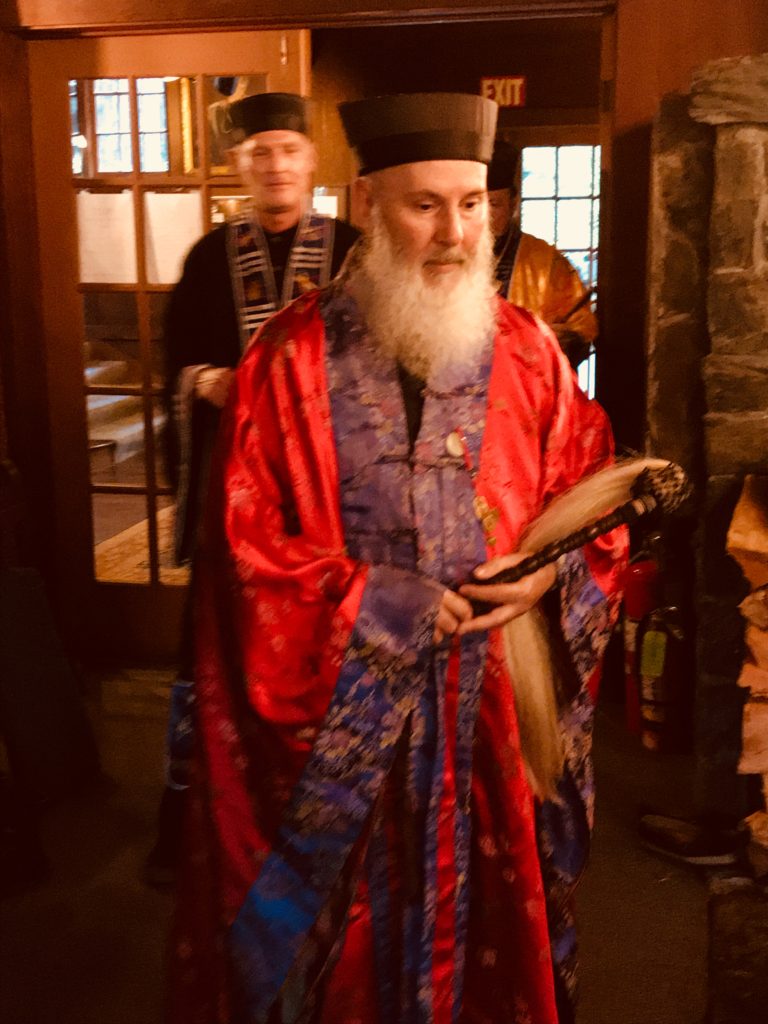 Books by Shifu Michael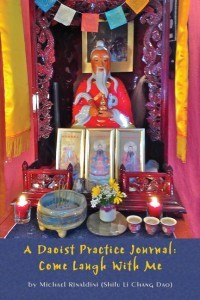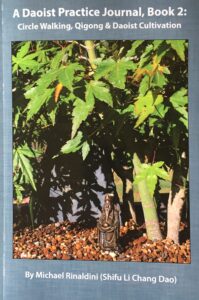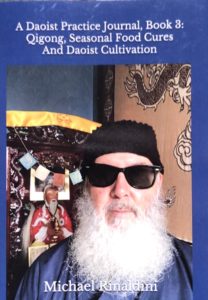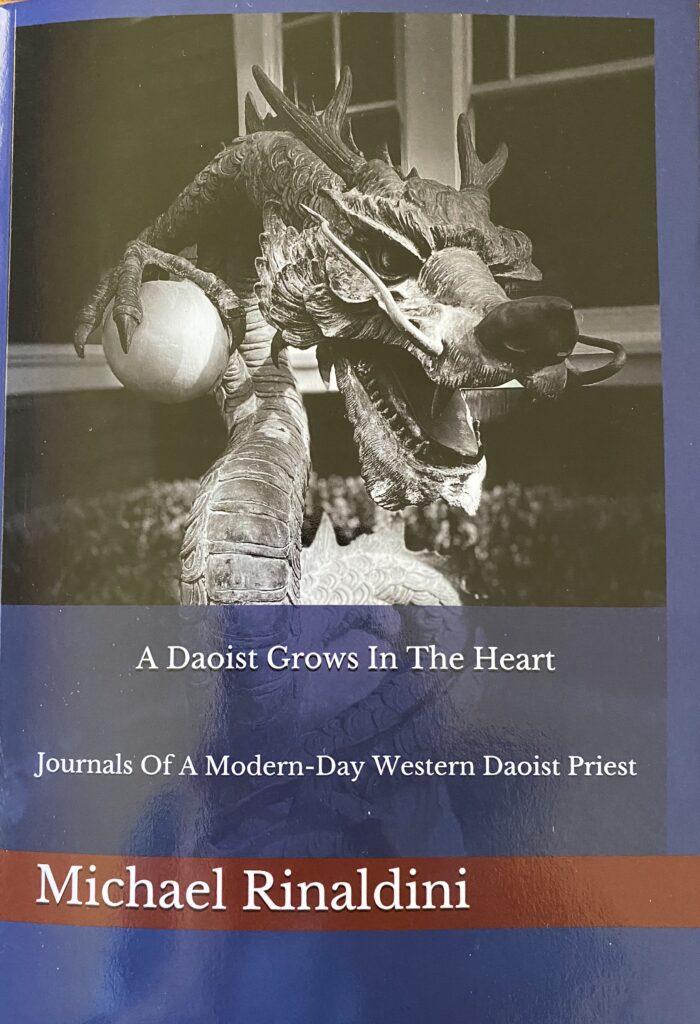 All five books are available on amazon.com and they include Kindle versions.
A Daoist Grows In The Heart: Journals Of A Modern-Day Western Daoist Priest. This journal series started in 2013 when I put together my first journal. My original intentions were to offer practical advice on what it means to be a modern-day western Daoist priest. One book led to another, and now this 600-page book which is a composite of my first three books (topics include qigong, circle walking, food cures, Daoist meditation, mysticism, solitude, and silence, and more.) Plus a 4th book on Bigu fasting, Daoist longevity practices, Catholic mystical prayer, including the meaning of how a Daoist grows in the heart.
A new 5th book by shifu Michael is Qigong: A Beginners To Advanced Guidebook, also available on amazon.com.
This book on Qigong covers theory and practice for the beginner Qigong practitioner. It includes sections on basic Qigong warm-ups to healing sounds, seasonal Qigong, and a section on how to keep your immunity strong. It also includes an in-depth subject on Chinese medicine, the Qigong State, advanced Qigong practice, and Daoist Zuowang meditation. For a short book, it covers beginner to advanced practices.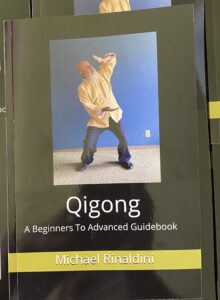 Review of Qigong: A Beginners To Advanced Guidebook
Summary of ​Qigong: A Beginners to Advanced Guidebook​ by Michael Rinaldini – Report by Dr. Patricia Fitzgerald – June 2020
I feel extremely fortunate to have this book appear in my life at this particular time. As I am completing my Qigong Certification course facilitated by Shifu Michael Rinaldini, I am delighted by the auspicious timing of the availability of ​Qigong: A Beginners to Advanced Guidebook.​ I purchased it early June 2020, while it was "hot off the press," having been published late May 2020.
I read this book through completely two times (as well as revisiting specific sections periodically), and I found that each time I read it, I had new insights and my understanding of Qigong deepened. As a student of Shifu Michael, I am "familiar" with a lot of the material. I put quotes around the word familiar because I find that when studying truth teachings such as Qigong/Taoism, I can never really be too familiar with any material, as I will often have a deeper insight to the material I may have been previously exposed to. Similarly, as I practice Qigong, I have a deeper connection to the practice, and each time I return to the practice, even if the form is something I have practiced many times, I always have a new experience.
I have read many books on Qigong, and I don't believe I have ever read one written by a Daoist priest. As a Daoist priest has a deep commitment to the inner journey, the rich inner life of Shifu Michael is evident throughout the book. To have a rich Daoist practice informs the Qigong instruction and writing is truly a blessing to the reader.
I really appreciate the layout as it is easy to refer to and find various sections. As I read through the book twice completely, I find that I will refer to it again and again as a reference.
Part I consists of Warm-Up Exercises and a Purge & Tonify set. The descriptions are very clear, and I really appreciate the "Theory & Benefits" section after each exercise. Those sections really assist me in reinforcing the intention behind each exercise. The photographs are very helpful; there is a good balance between the written description and visual.
The Healing Sounds section in Part 2 has a very effective similar layout to Part 1. I plan to refer to healing sounds regularly, and the ease of use of this section as well as the insights and practices related to the sounds are very valuable.
The next section of Seasonal Qigong is a great addition, and it is especially helpful as an inspiration for teaching. The focus on each season and the meridians and elements involved provides great context for the intent for the Qigong practice in the various seasons throughout the year.
In Part 3, Chapter 5, Shifu Michael takes a deep dive into the Immune System, Wei Qi, and the Metal Element. A beneficial insight is the importance of Spleen Qi and Kidney Qi when fortifying Wei Qi. Given the current health challenges in the world, applying these valuable insights to cultivate Wei Qi is especially appreciated. In addition to Qigong practices, seasonal food cures are included. It is great that the author includes a reminder to take care of the Spleen, as I know the digestive system is a significant component of the immune system.
I am very happy to see the Theory of Chinese Medicine/Qigong laid out so well. Some of the deep insights provided, especially regarding the Three Treasures, The Three Dantians, Wei Qi, and Qigong State, are very inspiring. This is where it is so special to have it written by a Daoist priest. As I read the words, I can feel the wisdom transmitted by the author. So much wisdom in this section, and a reminder that "The uniting of Shen and Qi is a prime goal of Qigong, Taiji, and meditation cultivation. This is the path of duality to non-duality. This is Oneness…" I love the writings regarding returning to our true nature. It is so great to be able to open to this section and read these insights again and again.
I had a similar experience with the section on Daoist Meditation. I can feel the author's passion for Zuowang meditation (similar to how I could feel it in the written manual for the actual course) which is very inspiring. I had a regular meditation practice before I started this course. I realize it was similar to Zuowang, although I had never called it Zuowang. As I learned about Zuowang from this course, my meditation practice evolved. This section of the book touches my heart and provides valuable insights and guidance as I continue my meditation practice.
The book ends with Chong Mai Qigong and Compassionate Buddha Qigong, two forms that Shifu Michael developed after many years of practice. I have been practicing them for quite some time. The Chong Mai Qigong developed by Shifu Michael has great implications. This form has deepened my curiosity, interest, and relationship with the Chong Mai. It was great to revisit various aspects of the forms by reading the descriptions in the book, as they provided deeper insights and context and reminded me of some aspects that I may have overlooked. I find both of these forms very profound, and I plan to continue to incorporate them as a regular practice. I am grateful to have them outlined in the book so I can refer to them regularly and continually refine my practice.
Thank you, Shifu Michael, for this treasure of a book!
Other Reviews
This latest volume of A Daoist Practice Journal is another gem. In my own copy of volume one of this series, Michael hand wrote the inscription, "Realize Not Two." This book is a rare look at one person's journey to doing just that. Henry McCann, DAOM,
Lac.
An ordained Daoist priest and founder of the American Dragon Gate Lineage, Shifu Michael explores what it means to be a Daoist in 21stcentury America. … a life of kindness, spiritual reflection, and self-examination. Linda Holt, M.A., D.Litt.
With his trademark style of journaling, Michael brings to life methods of altering ones qigong practices and eating habits throughout the seasons to harmonize with nature and the Dao. Christopher Collins, Publisher-The Empty Vessel Magazine
It's the myriad steps along the path that make up the life of a Daoist, and Shifu Rinaldini warmly invites the reader to join him in his day to day life as a Daoist Abbot. Dan G. Reid, author of The Ho-Shang Kung Commentary on Lao Tzu's Tao Te Ching
Visit shifu Michael's other pages for information on:
Use the Contact page for more information.