Welcome to Qigong Dragon
Qigong Certification & Daoist Training Center
Medical Qigong – Circle Walking – Meditation – Tea – Retreat
Memorial Day Weekend Qigong Certification 25 % Discount
Breaking News: The New York Times, June 2, 2014 issue features an article on the increasing presence of qigong on the physical health scene. It says qigong is beginning to overtake yoga as the popular and trendy place to go to for exercise.
Qigong Certification & Daoist Training Center is the practice center of shifu Michael Rinaldini (Li Chang Dao), a Daoist priest, Qigong Teacher, and founder of the American Dragon Gate Lineage. Medical Qigong, circle walking and meditation are the key practices that shifu Michael teaches in all of his programs, both for local students and through his distance training programs.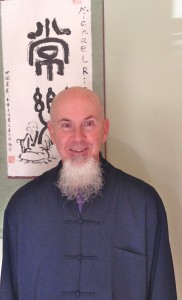 Michael has been involved in spiritual and healing practices most of his life, dating back to the early 1970's with his monastic experiences. He has been studying qigong for about 20 years, including four study trips to China. His main teacher is Master Wan Sujian from Beijing's Bagua Xundao Gong Qigong Center. Michael is a Certified Qigong Teacher by the National Qigong Association, and has led workshops at their annual conferences for the past ten years. Michael's teachings extend from local students in Sebastopol, CA to national and international qigong certification & Daoist training programs.
Shifu Michael is scheduled to teach a 4 hour mini-retreat workshop at the annual National Qigong Association conference in New Jersey in July, 2015. (see nqa.org)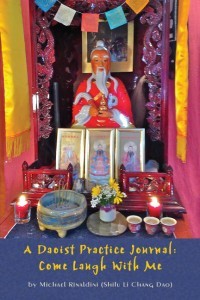 Michael's new book A Daoist Practice Journal: Come Laugh With Me is available through amazon.com. It focuses on practices of the Daoist path which includes topics such as qigong, Daoist zuowang meditation, recitation of Daoist scriptures, silence and solitude, retreats, diet and drinking puerh tea as part of cultivation practices. His book reveals the simple secrets of being a Daoist, including what he refers to as "being a Daoist in your heart."
Praise from Italy for "A Daoist Practice Journal: Come Laugh With Me."
Testimonial from Italian Martial Arts Qigong and Daoist Master from Grosseto, Italy. Visit his blog: http://albypingitore.blogspot.com
"This book is very interesting, it can inspire the reader, and the sincere seeker of the Dao. The book written by an authentic Daoist teacher is easy to read, the author has great ability to do touching the reader with his own hand the experiences he describes. The many insights and inspirations offered by the reading will always be with the sincere seeker up to the realization of "Not Two", the Whole Unity."
Alberto P.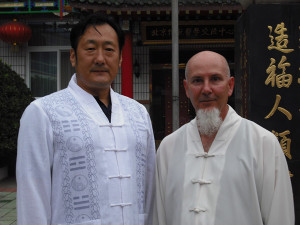 Qigong Daoist master and Michael Rinaldini
Michael and Master Wan Sujian, 2007
Please visit his other pages for information on: Qigong Certification, Retreats, Daoist Trainings, Cha Dao and local classes.
March Retreat coming in 2016!
Contact Michael at Lichangdao@gmail.com